My friend Kristin (who makes the amazing salted caramel sauce—CaraSel), gave me the recipe for her mom's famous blue cheese dressing a long time ago. I'd forgotten about it until an eye-opening blue cheese burger sent me off on a hunt. Kristin says this fills a quart Ball jar.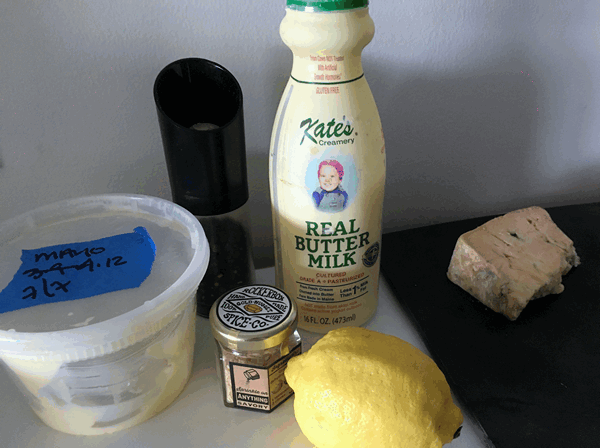 The Blue Cheese Dressing You'll Make Over and Over Again
8 oz blue cheese, crumbled
2 garlic cloves, minced
Juice of one lemon (or half if very large)
2 cups (416 grams) Hellmann's real mayonnaise, never low fat
Lots of freshly ground pepper
Scant ¼ cup buttermilk (or evaporated milk)
Since this is Kristin's recipe, I'll let her explain it: "I like to start by adding mayo to a large bowl, measuring by weight. I then add the blue cheese, fresh lemon juice, minced garlic, and grind in a lot of fresh black pepper (I like using a combo of "medium" and "coarse"). I use a spatula to stir and check to see if it looks peppery enough for me, adding more if desired. I then add buttermilk until it is the consistency I am looking for."
My verdict:  This was so easy and so good! And it was good doing it on a whim with what we had on hand.
There was a nice hunk of gorgonzola from one of the cheese webinars, so used that in place of the blue cheese, which Kristin says: "My mom swears by the Treasure Cave crumbles easily found in most grocery stores (they used to be 4 oz packages but increased to 5 oz a while back – we just throw it all in). I have used "fancier" slabs of blue cheese, but honestly, the dressing was not any better."  I would agree with her on both the "fancier" blue cheese and the little extra.
Since I always make my own mayo, that's what I used (and no worry about it being low fat).
Another of Kristin's notes about the garlic said: "The original recipe calls for 3-4 garlic cloves and if you are using the dressing/dip immediately for a party or something, you can go ahead and use that much. However, even though I am a garlic fiend, I add less if it is just for our home jar. Reason being, it gets MUCH stronger as it ages and the garlic can overtake everything. However you do it, it is fun to see how the last of the older batch compares to the freshy." Because of that I used about a teaspoon of Rockerbox Spice's granulated garlic, since it's going to be sitting around and this way the garlic flavor should be consistent.
I did have buttermilk and used at least ¼ cup to get it to my desired consistency—I was looking for something that would be sort of thick, but thinner than a dip. I also found that it thickens up after refrigeration.
This was so good, even with all my tweaks, that I'm looking forward to trying the original!