Desert Recipes
If one of your New Year's resolutions is to cut back on sweets, you'd better get busy or…
You may want to stop reading here.
This toffee really is like crack.
Easy and addictive.
And you probably have all four ingredients in your kitchen.
Don't blame the Accidental Locavore for this.
Makes one large sheet pan.
Toffee Crack:
40 saltine crackers (or more to fill the pan)
1 cup unsalted butter
1 cup dark brown sugar
2 cups chocolate chips
Pre-heat oven to 350°.
Spray a sheet pan with vegetable spray.  Line with crackers.
Put the butter and brown sugar in a medium saucepan, bring to a boil.
Reduce heat and simmer for 3-5 minutes.
Spread sugar and butter mixture evenly over the crackers.
Bake for 8-10 minutes.
Let cool slightly (mostly so you don't burn yourself), then top with chocolate chips.
As chips melt, spread them out until the crackers are covered.
Let cool completely, break into pieces. Serve and enjoy! 
My verdict:
Blame my cousin Ellen (and her friend Mollie). She gave me a bag for Christmas.
I should never have gotten the recipe. It's amazingly good and stupidly easy.
Mine wasn't as good as Ellen's but we talked it out and I think it was the sugar.
Light or dark brown sugar or a mix will work, but don't make my mistake and use a granular (organic) brown sugar. It doesn't melt thoroughly and my batch came out a little grainy.
For a large sheet pan, it's a little more than a sleeve of saltines. I put them all salty side up. Ellen has done it like that and mixed it up. She says it doesn't matter and I believe her.
This is Ellen's advice: "You can also sprinkle toasted sliced almonds on top of the chocolate, but Mollie does not use nuts and her toffee crack is perfect."
This cranberry upside-down cake appeared on David Lebovitz's website just before Thanksgiving.
It was just the dessert I needed to bring to friends. He says it's best served warm, and made in a cast iron pan, so I tried to erase memories of one of my biggest cooking disasters ever (a tarte tartin made and cemented into a cast iron pan) and just go for it.
Cranberry Upside-Down Cake
Topping
4 tablespoons unsalted butter, cubed
3/4 cup packed light brown sugar
3 cups fresh or frozen cranberries
Batter
1 1/4 cup all-purpose flour
1/4 cup coarse cornmeal or polenta
1 1/2 teaspoons baking powder
1/4 teaspoon salt
1/2 cup unsalted butter, cubed, at room temperature
3/4 cup granulated sugar
grated zest of one lemon
2 large eggs, at room temperature
1 teaspoon vanilla extract
1/2 cup milk, at room temperature
In a 9- to 10"cast iron skillet, melt the 4 tablespoons of butter and the brown sugar together, stirring frequently, until the sugar is moistened and liquefied. When the mixture starts to bubble, remove from heat and set the pan aside.
Preheat the oven to 350º.
In a small bowl, whisk together the flour, cornmeal or polenta, baking powder, and salt.
In the bowl of a stand mixer, or by hand in a mixing bowl with a spatula, beat the ½ cup of butter, granulated sugar and lemon zest at medium high speed for 3 to 5 minutes, until very light and fluffy. Reduce the speed of the mixer to medium and add the eggs one at a time, stopping the mixer to scrape down the sides. Mix in the vanilla extract.
At low speed, add half of the flour mixture, then the milk, then the remaining dry ingredients, mixing just enough so that they're all combined. Do not overmix.
Distribute the cranberries in the prepared pan over the brown sugar mixture and shake the pan so they are in a relatively even layer. Spoon the batter over the cranberries in four mounds, then use a spatula to spread the batter evenly over the fruit.
Bake the cake until the top is golden brown and a toothpick inserted into the center comes out clean, about 50 minutes. Remove from the oven, wait 10 minutes, then run a knife around the cake. Place a serving platter overturned on top of the cake in the skillet, then using oven mitts to cover your hands, flip the two over simultaneously, until the cake releases from the pan. Serve and enjoy!
My Verdict: Phew! Came out of the pan beautifully and tasted great! Frank thought it could use a few more cranberries, so the next time I make it, I'll just pour the whole bag in.
In a moment of pre-baking terror, I did give the cast iron pan a quick spray of butter, but I'm not sure if it needed it.
The only thing I wasn't sure about was the cornmeal. It does add a crunch which Lebovitz says he likes in his baking, which Frank liked, but I'm not sure I was a huge fan. Maybe next time, I'll try it with all flour.
The other thing I would probably do differently would be to cream the butter and sugar together using my stand mixer. I used a hand beater and while it worked fine, it took longer and was not as creamy as when I've pulled out the big mixer.
If cranberries aren't in season, a mess of blueberries or other fruit would probably work just as well.
This salted caramel chocolate tart recipe from bon appétit looks complicated but if you've made tarts before, it's not hard. You'll need to devote some time to the process but a lot of it can be done ahead of time, chilled and assembled later. It's all worth it! Check out "my verdict" for some tips before you start. 
Crust
⅓ cup unsweetened cocoa powder
2 tablespoons sugar
½ teaspoon Diamond Crystal kosher salt
1⅔ cups all-purpose flour, plus more for surface
¾ cup (1½ sticks) chilled, unsalted butter, cut into pieces
1 large egg yolk
3 tablespoons chilled milk or water
Filling
1½ cups sugar
⅛ teaspoon cream of tartar
6 tablespoons chilled unsalted butter, cut into pieces
⅓ cup heavy cream
1 teaspoon Diamond Crystal kosher salt
Ganache
4 oz. semisweet chocolate (do not go above 70% cacao), finely chopped
½ cup heavy cream
2 tablespoons unsalted butter, cut into small pieces
Flaky sea salt, like Maldon
Crust
Whisk cocoa, sugar, salt, and 1⅔ cups flour in a medium bowl. Add butter and toss to coat. Using your fingers, smash butter into dry ingredients until it nearly disappears (you shouldn't see any large bits) and mixture holds together when squeezed—you're working it more than you would pie dough. Make a well in the center and add yolk and milk. Using a fork, gradually incorporate flour mixture until you've got a shaggy dough. Knead a couple of times in bowl until no dry spots remain, and dough is smooth.
Flatten into a ¾"-thick disk, wrap tightly in plastic, and chill until firm, about 2 hours (if you're making the caramel, you can make it while the dough is chilling).
Preheat oven to 350°. Let dough sit 5 minutes to soften slightly. Roll out on a lightly floured surface to a 14″ round about ⅛" thick, dusting with more flour as needed to prevent sticking. Lift dough on one edge and throw a pinch of flour on surface.
Slide the removable bottom of tart pan under dough, positioning it roughly in the center.
Fold the edges of the rolled dough inward toward the center, working all the way around so it rests on top of the tart pan bottom. Then lower it into the tart pan. Unfold the edges so they gently slump against the sides of the tart pan and the excess dough is hanging over the edges. Press dough firmly into bottom of pan with floured hands, then firmly press sides of dough into grooves and up sides of pan. Use a rolling pin over top edge of pan to shear off excess dough.
Reserve dough scraps for patching any potential cracks later. Prick bottom of dough all over with a fork and chill in freezer until very firm, 10–15 minutes.
Place tart pan on a rimmed baking sheet and line with a sheet of parchment paper or foil. Fill with pie weights or dried beans and bake until edges of crust are set and starting to look dry, 12–15 minutes. Carefully lift parchment with weights. Patch any visible cracks with reserved dough. Return crust to oven and bake until firm and dry all over, 18–22 minutes. Transfer to a wire rack and let cool.
Salted Caramel Filling
Bring sugar, cream of tartar, and ⅓ cup water to a boil in a large saucepan over medium-low, stirring with a heatproof spatula until dissolved. Cook, swirling pot often but not stirring, until mixture turns deep amber and wisps of smoke rise from the surface, 8–10 minutes. Remove caramel from heat and immediately stir in butter a piece at a time until smooth (be careful; mixture will sputter). Gradually stir in cream, then add salt. Transfer caramel to a heatproof measuring glass (you should have about 1½ cups). Let cool until warm.
Pour caramel into cooled tart shell. Chill until caramel is set, at least 1 hour. 
Ganache
Place chocolate, cream, and butter in a heatproof bowl set over a saucepan of simmering water (bowl should not touch water). Stir with a heatproof spatula until ganache is smooth, about 5 minutes. Let cool until thickened enough to hold an indentation from a spoon—if it's too warm, it won't hold its swirls.
Remove tart from refrigerator and scrape ganache over caramel. Using a spoon, gently work ganache over surface, creating decorative swooshes and swirls. Sprinkle with sea salt; let sit until ganache has lost its sheen, 10–15 minutes. 
My verdict: This was totally worth it! Amazing salted caramel chocolate tart! As I said in the beginning, it needs lots of time (mostly cooling and resting), which I didn't plan for when I was making it.
First, I made the dough in the food processor. It was fine, but I did end up putting it in a bowl and kneading it by hand until everything was incorporated. Not sure that the food processor saved any time.
There was a lot of dough leftover, so I rerolled it and made three mini tart shells for future use (not sure how that's going to work). I mixed some cocoa powder in with the flour when I was rolling out the dough, so there wouldn't be a lot of white flour marks on my dough.
My big hack on this was using a 6-ounce jar of my friend Kristin's Cara-Sel amazing salted caramel sauce for the filling. I'm lucky enough to have easy access to it, you should just order some and thank me later.
The ganache took forever (i.e. more than 10 minutes) to cool until it was workable. If I had to guess, it's about an hour. I was in a hurry, so I tossed the (metal) bowl in the freezer and it chilled to the right temperature in about 10 minutes.
When was the last time you had a pineapple upside-down cake?
I had some pineapple leftover from making Thai duck curry and thought I'd put it to good use.
This used up all the rest of the pineapple and made a 9" square pan.
Topping
¼ cup butter
½ cup light brown sugar, firmly packed
¼ teaspoon ground cinnamon
¼ teaspoon ground ginger
20-ounce can pineapple rings in juice, drained, or fresh pineapple, cleaned and cut into ¼" rings
Candied red cherries or maraschino cherries (optional)
Diced pecans or walnuts (optional)
Cake
3 tablespoons butter
3/4 cup sugar
1 large egg
1/2 teaspoon salt
1 3/4 teaspoons baking powder
1 teaspoon vanilla extract
1 1/3 cup flour
1/2 cup milk
Preheat the oven to 375°F. Lightly grease a 9″ cake pan.
To make the topping:
Melt the butter, and mix with the brown sugar, cinnamon, and ginger. Spoon the mixture into the prepared pan.
Space the pineapple rings atop the brown sugar mixture. If you're using them, place a cherry in the center of each ring and scatter the nuts in any empty spaces.
To make the cake:
Beat the butter and sugar until fairly smooth.
Beat in the egg, then the salt, baking powder and vanilla.
Add the flour alternately with the milk, mixing at medium speed and beginning and ending with the flour. Once the last of the flour is added, mix briefly, just until smooth.
Spoon the thick batter into the prepared pan, spreading it to the edges of the pan. It may not cover the pineapple entirely; that's OK.
Bake the cake for 30 to 35 minutes, until a toothpick or cake tester inserted into the center comes out clean.
Remove the cake from the oven, wait 3 minutes, then turn the pan over onto a serving plate. Wait 30 seconds, then lift the pan off. If anything sticks in the pan, just lift it out and place it back on the cake.
Serve warm or at room temperature and enjoy!
My verdict: A delicious classic!
I used a silicone baking pan and the cake slid out of it perfectly.
Thought briefly about putting some dried cherries in the center of the pineapple slices, but just went for the plain version (no nuts or cherries).
A recipe I saw talked about adding some dark rum to the topping and that might be good if you're looking for a more grown up version.
Think of clafoutis as being French equivalent to a cobbler, but being French, a little more elegant.
However, that doesn't mean it's one of those desserts you have to fuss over. It's actually easier than a cobbler—all you do is pop a few ingredients in a blender and pour them over some fruit.
Traditionally the fruit is cherries, but any fruit that can be baked can be used.
I had some cherries, peaches and blueberries, on their own, not enough to make a pie or anything and a few too many to eat before they went bad, so clafoutis seemed like the way to go.
Clafoutis
1 ¼ pounds (570 grams) sweet cherries
3 large eggs at room temperature
½ cup flour
1 teaspoon vanilla extract
1/8 teaspoon almond extract
½ cup plus 3 tablespoons sugar (mixed use)
1 1/3 cups milk
Softened butter for greasing the baking dish
Preheat the oven to 375°.
Liberally grease a shallow 2-quart baking dish with butter.
Stem and pit the cherries. Place them in a single layer in the baking dish.
In a blender, mix the eggs, flour, vanilla and almond extracts, ½ cup sugar and milk together until smooth.
Pour the batter over the cherries and sprinkle with the remaining 3 tablespoons of sugar.
Bake about 45 minutes until it is just set. A knife or toothpick poked in the center should come out relatively clean.
Serve and enjoy!
My verdict: It's super easy and delicious. We served it warm, but you can serve it warm, room temperature or cold—all good.
I used a mix of cherries, blueberries and a peach that I cut into small chunks (but didn't peel).
Since I've had nut allergies in the past, I didn't use any almond extract, which probably made it really non-traditional, but it didn't take away from the taste.
Another added bonus is that it's really good for breakfast the next day, whether you bother to warm it up or not.
It's a versatile recipe to know about, you can switch up the fruit or take the sugar out, substitute some cheese, add veggies and make it a savory dish.
Now that we're moving into apple season, it seemed like a good time to revisit this great apple cake.
Originally the idea of a fruit CSA had its appeal.
Apples and other fresh fruit, weekly when we picked up our regular CSA share at Poughkeepsie Farm Project.
Shared with friends since the Accidental Locavore knew 8 pounds of fruit was going to be too much.
Even 4 pounds is a lot of fruit, but this delicious apple cake will take six of them off your hands.
I'd seen this recipe on Smitten Kitchen and then my cousin called raving about this great apple cake she'd made. She was right!
Apple Cake Recipe
For the apples:
6 apples, McIntosh or whatever looks good
1 tablespoon ground cinnamon
5 tablespoons white or light brown sugar
For the cake:
2 3/4 cups (360 grams) flour
1 tablespoon baking powder
1 teaspoon fine salt
1 cup vegetable oil (or mix of butter, olive oil etc.)
2 cups sugar
1/4 cup orange juice
2 1/2 teaspoons vanilla extract
4 large eggs
Heat oven to 350°. Butter a tube pan (angel food, bundt).
Peel, core and chop apples into 1-inch chunks. Toss with cinnamon and 5 tablespoons sugar and set aside.
Stir together flour, baking powder and salt in a large mixing bowl.
In a separate bowl, whisk together oil, orange juice, sugar, vanilla and eggs.
Mix wet ingredients into dry ones; scrape down the bowl to ensure all ingredients are incorporated.
Pour half of batter into prepared pan. Spread half of apples (and their juices) over it. Pour the remaining batter over the apples and arrange the remaining apples on top.
Bake for about 1 1/2 hours, or until a toothpick comes out clean.
Cool completely before running knife between cake and pan, and unmolding onto a platter. Serve and enjoy!
My verdict: Great apple cake! After we devoured a couple of slices of it, I cut it in quarters and stuck most of it in the freezer. Two days later, most of it has already been pulled from the freezer (not to worry, got more apples from the CSA). Slightly warmed up, it makes a great breakfast too! Now I've made it twice and it still hasn't lasted a week.
I used a combo of McIntosh and Macons which worked well, you probably want to avoid the mushier apples like Delicious. Since we're not an orange juice drinking household, I just bought an orange and juiced half of it.
The recipe calls for a cup of vegetable oil and suggests that you can use olive or coconut oil and/or butter. Because butter makes everything better, I used one stick of butter, melted and topped it off with vegetable oil. Might try an olive oil-butter mix the next time.
Update: Because of the plethora of apples, I ended up making this about five times. Olive oil was the least successful batch so I went back to butter and vegetable oil. Everyone who has made this or tasted it loves it. Give it a shot.
Christmas pudding is like fruitcake—same candied fruit, (more) booze, and a limited number of fans (mainly U.K. residents and expats).
And, like fruitcake, someone must be eating it or it wouldn't show up on store shelves.
However, that's been changing and not only has the audience diminished, so have the places where you can buy it.
Since the Accidental Locavore's mother and twin sister are both huge fans, I decided to give it a go.
It's pretty easy, but you need plenty of time for it to age.
The longer the better and remember, the fruit mix needs to marinate for four days.
This makes about 4 medium bowls.
Christmas Pudding Recipe 
Fruit Mixture (To be made 4 days ahead)
1 pound seedless raisins
1 pound sultana (golden) raisins
1/2 pound currants
1 cup citron (thinly sliced or chopped)
1 cup chopped candied peel
1 teaspoon cinnamon
1/2 teaspoon mace
1/2 teaspoon nutmeg
1/4 teaspoon ground cloves
1/4 teaspoon allspice
1/4 teaspoon freshly ground black pepper
1 pound finely ground beef suet
1 1/4 cups cognac
Pudding
1 1/4 pounds fresh bread crumbs (about 1 loaf of Wonderbread)
1 cup very hot milk
1 cup sherry or port
12 large eggs, well beaten
1 cup sugar
1 teaspoon salt
Cognac
Butter for greasing the bowls
In a very large bowl, add the raisins, sultanas, currants, citron, peel, spices and suet. Toss to combine.
Add 1/4 cup cognac, cover tightly and refrigerate for 4 days.
Sprinkle the mix with 1/4 cup cognac each day.
In a medium bowl, soak the bread crumbs in milk and sherry (or port).
Add the beaten eggs, sugar and salt.
Pour into the fruit and mix thoroughly.
Put the pudding in buttered bowls or tins and fill them about 2/3 full. Cover with a piece of parchment paper cut to fit the bowl, then top with aluminum foil and tie it firmly.
Steam for 6-7 hours. A large roasting pan works well for this. If you want to do it in the oven, cover the roasting pan and bowls with aluminum foil and steam in a 275° oven.
Check occasionally and add more water as needed.
Uncover and bake in a 250°F. oven for 30 minutes.
Add a dash of cognac to each pudding, cover with parchment paper and foil and keep in a cool place. They will store for up to a year.
To use, steam again for 2-3 hours and unmold. If you'd like, add some gently heated cognac, ignite and bring to the table. Serve with hard sauce (softened, unsalted butter and confectioner's sugar beaten together with a lot of brandy or cognac) and enjoy!
My verdict: Never a big fan, this could change my mind about Christmas pudding (which by the way has no resemblance to pudding, it's just the British term for desserts). Even my husband who can't stand the stuff actually liked it!
I would buy some deep inexpensive bowls to use for this. This time I used a set of three I bought (2.5 quarts and smaller) and an old large soup bowl, If you're going to be aging the "pud," just remember that the bowls will be out of service for a while. You're also going to need some very large mixing bowls to hold the fruit mixture, breadcrumbs and eggs.
Because the fruit is acidic, it's best to always have a piece of parchment (not waxed) paper covering the surface of the pudding. Then top with aluminum foil.
Generally, instead of trying to fit a giant bowl in my fridge for four days (no way that's going to happen), if it's cold enough, I put in on my screen porch.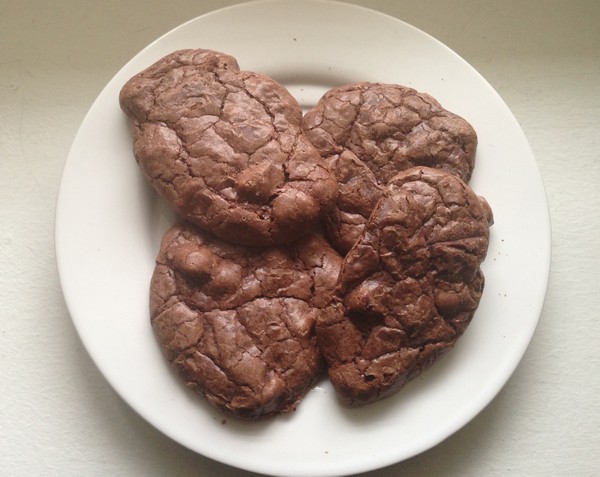 Sometimes you need to cook to take your mind off current events.
These ultimate chocolate cookies might distract you from things like election results.
And they taste amazing!
Might even put a smile on your face.
Pull out a cookie sheet and give it a try.
This makes about 12 cookies.
Ultimate Chocolate Cookies
2 ounces unsweetened (baking) chocolate
6 ounces semi-sweet chocolate
2 tablespoons butter
¼ cup sifted flour
¼ teaspoon baking powder
Pinch of salt
2 eggs
¾ cup sugar
2 teaspoons vanilla extract
2 teaspoons instant coffee (optional)
6 ounces chocolate chips
8 ounces walnuts or pecans, chopped (optional)
Preheat oven to 350°. Melt unsweetened, semi-sweet chocolate and butter together in a double boiler until melted (or see update below). Remove and let cool.
Sift flour, baking powder and salt together.
With an electric mixer, beat eggs, sugar, vanilla and coffee on high speed. Reduce to low speed and add chocolate/butter mixture. Add sifted ingredients and mix just until smooth. By hand, stir in chocolate chips and nuts.
Line a baking sheet with parchment paper. Drop tablespoon-sized cookies on sheet.
Bake for 10-12 minutes until top of cookies get a cracked look. Remove from oven and let cool. Serve and enjoy!
My verdict: This recipe came from an old friend and I had forgotten how good these cookies were! Frank tried them and loved them! They're like a cookie version of a really good brownie, or molten chocolate cake. . I left the nuts out as I've had allergies, but they would be a great addition. I also left the coffee out as I like my chocolate unadulterated, but if you feel differently…While cookies aren't a part of my normal repertoire, these are classics.
Update: I've made these at least four times recently, and they continue to be great! Recently, a friend said that he had melted the chocolate and butter in the microwave, so I tried it. About 90 seconds, but do it in 30 second increments.
The Accidental Locavore's friend's recipe has this at the bottom: DISCLAIMER: Not responsible for anyone's actions after cookies have been consumed!!!
What to do with a plethora of plums?
And a plethora of plums that won't stop coming.
Most of the time it's zucchini or eggplant people complain about when they have a CSA.
We thought a fruit share sounded like a good idea, but knew eight pounds of fruit a week would be too much so decided to share it with friends.
It's still too much, and we're not eating enough of it so the Accidental Locavore is trying to figure out what to do with it all (and in ways that don't necessarily involve desserts).
But this one does.
Billed as the most requested recipe from the NY Times, they refer to it as a Plum Torte, but it's more like a cake (IMHO).
Plum Cake Recipe
Serves 8.
¾ to 1 cup sugar (depending on your sweetness tolerance and the sweetness of your plums)
½ cup unsalted butter, softened
1 cup unbleached flour
1 teaspoon baking powder
Pinch of salt (optional)
2 eggs
24 halves pitted purple plums
Sugar, lemon juice and cinnamon, for topping
Heat oven to 350°.
In a mixer, cream the sugar and butter.
Add the flour, baking powder, salt and eggs and beat well.
Spoon the batter into a 9" spring-form pan. Place the plum halves skin side up on top of the batter.
Sprinkle lightly with sugar and lemon juice, depending on the sweetness of the fruit.
Sprinkle with about 1 teaspoon of cinnamon, depending on how much you like cinnamon.
Bake 1 hour, approximately. Remove and cool; refrigerate or freeze if desired. Or cool to lukewarm and serve plain or with whipped cream. Serve and enjoy!

My verdict: Moist and buttery – well there was a stick of butter…
Make sure to add the sugar, lemon juice and cinnamon to top it off. Just go easy on the cinnamon unless you're a big fan (I've learned the hard way that a little cinnamon goes a long way!).
The plums give a nice tartness to what is a rich treat, but as the Times says, you can use almost anything; I'm going to do it with peaches and then maybe apples.
While it's a great dessert, it's also a pretty fine breakfast!
My only issue was that my (cheap)spring-form pan leaked and I ended up putting a parchment-lined baking sheet under it to catch the drips. Not sure you need a spring-form, just butter any sort of cake pan (or buy a better spring-form).
The paper of record says you can freeze it, and to serve a torte that was frozen, defrost and reheat it briefly at 300°.
Caramelized peaches became one of those recipes that I've used a lot in the past and then somehow got lost in the shuffle.
Which is a shame because they're so good!
Sometimes it's a combo of the thrill of the new along with some old favorites that push the good-but-not-part-of-the-repertoire aside. This is one of them and serves 4:
Caramelized Peaches
4 large peaches, unpeeled
¾ cup sugar
1 teaspoon light corn syrup
Water as needed
4 tablespoons unsalted butter, cut into small pieces and chilled
Preheat the oven to 400°.
Cut the peaches in half and pit them, set aside.
In a large heavy-bottomed pan, add sugar, corn syrup and just enough water to dissolve the sugar. Bring to a boil over high heat.
Cook until sugar caramelizes and becomes a deep amber color. Keep an eye on it as it can go from good to burnt in an instant.
Add the chilled butter, a few small pieces at a time, whisking constantly until all the butter is emulsified into the caramel.
Place the peaches, cut side down, in one layer in the pot with the caramel. Cover pot with foil and roast for 20 minutes.
Remove foil and cook for an additional 5 minutes. Remove from oven and let rest 5-10 minutes. Serve with your favorite ice cream and enjoy!
My verdict: I'd forgotten how good this was! As much as the Accidental Locavore loves biting into a perfect peach, there's something about cooking them that's equally wonderful.
While this is a great go-to recipe for less-than-perfect peaches, it works even better with ripe ones, and if you can get freestone peaches, it's a huge help.
I did this as my version of peach shortcake with buttermilk biscuits and vanilla ice cream (homemade) but you really don't need the biscuits, it's wonderful just with ice cream.
I have an idea about putting the pot on the side of a hot grill instead of in the oven…for that touch of smoke and so I'm not heating up the kitchen, but haven't tried it yet. What do you think?