For the past two weeks the Accidental Locavore's farm boxes have been packed with goodies. Finally some great corn (sorry Maine, but the corn there was pretty ho-hum) the beginning of tomatoes and tiny fingerling potatoes. Those summer staples, eggplant, zucchini and summer squash, along with cucumbers and, this week a new addition, okra. Paul pointed out to me the lovely flowers the okra plants produce, a soft yellow with dark centers.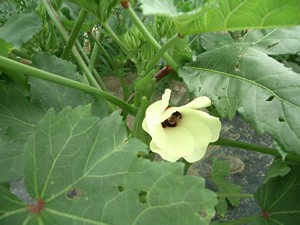 Because it's been so hot, we've been making a lot of Salad Niçoise, especially now with the potatoes, beans and tomatoes being so great. My ongoing experiment, to recreate Bobby Flay's amazing cauliflower gratin with goat cheese, is getting closer and the Locavore just used a beautiful head of cauliflower to make a gratin with goat cheese, crème frâiche, breadcrumbs and chevrè. Still not Bobby Flay level, but not bad.
The beautiful fingerling potatoes cried out for a French potato salad, with bacon and red onion. It's easy and delicious. When I was looking for a recipe for cherry tomatoes, I came across a recipe for potato salad from the NY Times that has pepperoni in it, so this week's potatoes and last week's shallots will be the basis for that. Who (besides my mother) doesn't like pepperoni?
Since the temperature has dropped a little and there were a lot of Japanese eggplant, last week the Locavore made Thai green curry chicken. Rather than just plopping the eggplant and green peppers into the curry and coconut milk mix, I grilled them. Frank and I are not big green pepper fans (sorry Paul) so in an attempt to make them more likable, grilling them and peeling them, like you would do for red peppers, worked to make them a more viable option.
In a burst of energy, the Locavore made the pepperoni potato salad, tabouli, cucumber yogurt soup, some pesto (waiting for a shot of Parmesan) and then collapsed in a heap on the couch with a bowl of the soup and a large iced tea. The soup was really good, but I learned a lesson, don't use Kirby cucumbers! Too bitter. The potato salad with pepperoni was great and a definite keeper and the tabouli was terrific, one of my summer favorites.
For any of the recipes, just click on the links.