Side Dish Recipes
These grilled mushrooms on skewers will be one of your summertime favorites! It's a simple recipe and will make you want to head right out and buy a bunch of mushrooms.
2 pounds mushrooms, button or cremini
2 tablespoons balsamic vinegar
1 tablespoon soy sauce
3 cloves garlic, minced
½ teaspoon thyme, chopped
Salt and pepper
Slice the mushrooms into about ¼" slices (on an average sized mushroom, I cut them into thirds). Mix the rest of the ingredients together in a container or Ziploc bag. Add the mushrooms and marinate for 30 minutes.
Skewer the mushrooms and grill over medium-high heat for about 2-3 minutes a side, until they are tender and slightly charred. Serve with just about anything and enjoy!
My verdict: These were great!  Since there were just two of us (and we didn't know how delicious they would be) I only bought a pound of mushrooms but kept to the same quantity of  marinade ingredients above.
We had them as a side dish and then I tossed some of the leftovers on some burgers we made the next day.
Being curious and impatient, I started to eat them before they were even grilled, and they were terrific. I'm not sure that eating them straight from the marinade was a good idea, but I survived and put some of the bits that were too small to skewer on a salad for lunch the next day.
If you don't have a grill, a hot oven (425°) and a sheet tray would probably work fine and of course, a grill pan would too.
The thyme is a small amount and could be forgotten if you didn't have any, or swapped out for some rosemary. Please don't use dried thyme, it's noxious and will ruin the dish. Better to go without.
Off to toss some more on the grill!
OK, your first thought, like the Accidental Locavore's, is probably – artichokes are time-consuming enough to cook, why would I want to grill them, but trust me, you do.
And, you want to grill them on charcoal. I'm only slightly a charcoal snob, because there are many times when time is at a premium and it's faster to toss something on a gas grill. For this, the smoky taste from the charcoal is really the reason you're grilling them in the first place, so go light some charcoal!
While you're waiting for the grill to be ready, wash and trim the artichokes. I had two big ones; figure on at least 1/2 per person depending on the size and what role they're playing in your meal (appetizer, main course, side dish). You can save a lot of time, by wrapping them in either Saran Wrap or parchment paper, and steaming them in the microwave for about 8 minutes (again depending on size and microwave strength) until the stem end is tender and gives when you touch it.
Once they're cool enough to work with, cut them in half. Using a small spoon, carefully remove the choke and the smallest inner leaves (if you want to, the choke can be removed before you cook them, but it's easier this way). Brush the artichokes with either a little melted butter, some of the remoulade you're going to eat with them or a little good olive oil.
Grill them, cut side down, for about 5 minutes, then flip and grill the other side for about 5 more minutes. Serve with the remoulade sauce below, or your favorite dipping sauce and enjoy!
My verdict: These were great! Absolutely worth doing over charcoal, and definitely worth grilling! This may sound silly, but it's awfully nice to have the chokes already removed so you can just zip though them. My quick version of a remoulade may or may not be terribly authentic, but it sure tasted good! I think it's one of those things that takes well to improvisation. Probably having some homemade mayo helped too, but by this point I hope I've convinced you ages ago that it's the only way to go.

Remoulade 
3/4 cup mayonnaise (preferably homemade)
1 garlic clove, finely minced
1 tablespoon capers, chopped
3 anchovy filets, finely minced
1 tablespoon chives, finely minced (or scallions)
1 tablespoon Worcestershire sauce
1 tablespoon lemon juice
Salt & pepper to taste
Mix everything together in a small bowl. Taste and adjust to suit your palette.
This magic sauce came about when I was looking at Tracey Medeiros' The Vermont Non-GMO Cookbook recently. Her Brussels Sprouts with a Creamy Sriracha Dipping Sauce was one of the recipes that jumped out at me!
Two things we really like—Brussels sprouts and Sriracha, seemed like it would be a great dish, but if you're not a sprout fan, just skip down to the sauce. Serves 4:
Brussels Sprouts:
1 pound Brussels sprouts, trimmed and halved lengthwise
3 garlic cloves (medium sized), minced
2 tablespoons coconut oil, melted
Salt and pepper
Creamy Sriracha Sauce:
¼ cup sour cream
¼ cup mayonnaise
½ teaspoon horseradish
½ teaspoon Sriracha
½ teaspoon garlic powder
¼ teaspoon cayenne or chili powder
Salt and pepper
Preheat the oven to 400°. Lightly grease or cover a baking sheet with parchment paper and set aside.
In a medium bowl, combine the Brussels sprouts, garlic, oil, salt and pepper. Toss to combine.
Put the sprouts on the baking sheet cut side down and bake for about 20 minutes until they're golden brown.
While the Brussels sprouts are cooking, make the sauce. Stir all the ingredients together until well combined.
Serve the Brussels sprouts with the Sriracha sauce on the side and enjoy!
My Verdict: It took a while to actually getting around to trying this, because one day we had a lot of sprouts, but no mayo. Then I made mayo, but we'd eaten all the sprouts. Finally, I got it all together we loved it!
I used olive oil on the sprouts, instead of coconut oil and they were fine. I might try coconut oil the next time, just to see what happens. For the garlic powder, I used my new fave from Rockerbox Spice Company. It's pure dehydrated garlic and really makes a difference!
After tasting the sauce, I added more Sriracha and horseradish to give it more of a kick.
Little did I know that Frank made the sauce his go-to for every sandwich he's made since then. We think it's going to be great on burgers—just haven't done that yet. And don't tell anyone, but it's terrific as a dip for potato chips. Try it and let me know what you think. Brussels sprouts optional.
Artichokes are one of my favorite vegetables!
I could eat them all the time and in any preparation.
When I saw this recipe in Saveur for roasted artichokes, it seemed like an easy way to fix them—just roast them for a while and enjoy.
This serves 3:
Roasted artichokes
¾ cup olive oil
¾ cup dry white wine
2 tablespoons dried oregano
2–3 teaspoons crushed red chile flakes
6 cloves garlic, finely chopped
3 globe artichokes
Salt and pepper, to taste
Heat oven to 500°.
In a medium bowl, whisk together oil, wine, oregano, chile flakes, garlic, and salt and pepper; set aside.
Cut 1″ off the top of each artichoke and gently pull leaves apart to open artichokes. Place them, standing up on their bases, in a small roasting pan or dish large enough to hold them in one layer.
Pour oil mixture over each artichoke, making sure it reaches in between all leaves. Cover with aluminum foil, and bake for 45 minutes.
Uncover, and bake, basting often with juices, until browned and tender, about 30 minutes more. Let cool for 10 minutes. Serve warm with pan juices and enjoy!
My verdict: Sadly, not a winner.
I'm not sure if it was the artichokes or the recipe but they were tough. I used a 450° oven as I was roasting a chicken and didn't think it would be a huge difference, but after 90 minutes, they were pretty leathery. I wrapped them and tossed them in the microwave to steam them for about 5 minutes and it made them edible.
There was too much taste from the red chile flakes and not enough from anything else so we used some stray hollandaise sauce to liven things up.
Here's where I think things might have been improved: pre-steaming the artichokes in the microwave for 5 minutes and them roasting them as above.
Or, pre-steaming them, dousing them with the sauce (minus a few red chile flakes and maybe plus some lemon) wrapping them up in foil and tossing them directly in the fire of a charcoal grill.
Have you ever made artichokes this way? How did they turn out for you?
As much as the Accidental Locavore likes  Brussels sprouts any way, every now and then, you need to mix it up, dress them up.
Cheese is always good.
And knowing how to do a béchamel sauce (which technically becomes a mornay sauce with the addition of cheese) is handy for a lot of things—mac & cheese, croque monsieur, etc.
Serves 6
Brussels Sprouts Gratin
For the Mornay sauce:
2 tablespoons unsalted butter
2 tablespoons flour
2 cups whole milk (warmed)
Salt and pepper
2/3 cup grated smoked Gouda cheese (2 ounces)
For the Brussels sprouts:
1 1/2 pounds brussels sprouts, trimmed and halved
For assembling the gratin:
2/3 cup finely grated aged Gouda (2 ounces)
Smoked flaked sea salt, such as Maldon or regular sea salt
Preheat oven to 375°.
Make the sauce: Melt butter in a saucepan over medium heat. Add flour and whisk until mixture bubbles slightly but has not started to brown, about 2 minutes.
Gradually whisk in milk. Raise heat to medium-high and bring to a boil, whisking often.
Reduce heat to low and cook, stirring occasionally with a wooden spoon, until thickened, 12 to 15 minutes. It should coat the back of a wooden spoon.
Season with salt and pepper. Remove from heat. Add cheese and stir until melted.
Blanch the brussels sprouts: Place in a microwave-safe dish. Sprinkle with about a tablespoon of water and cook, covered, for 4-5 minutes until just tender.
Assemble the gratin: In a lightly greased gratin pan, add the Brussels sprouts.
Pour the sauce over the brussels sprouts and sprinkle with cheese and a pinch of smoked sea salt.
Bake until bubbling and golden, about 25 minutes. Serve and enjoy!
My verdict: This is a great dish for those who may be on the fence about Brussels sprouts. Like bacon, cheese makes everything good.
Hmmm…speaking of bacon, a little cooked and crumbled would probably go really well in this.
We really liked this. It's a great side dish to something simple like a steak. You can easily substitute almost any cheese for the smoked Gouda, or even a combination, if you've got stray scraps in the fridge.
Topping it with Parmesan and/or breadcrumbs would also be delicious. Just think of it as a Brussels sprouts version of mac & cheese (and it will seem almost healthy).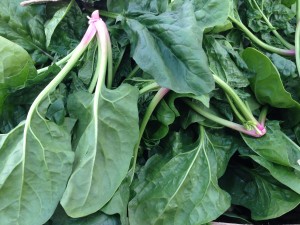 Spinach is one of those vegetables that is hard to mess up.
A little fat (butter or duck) or olive oil and it's a success.
However, there are times when you want it to be a little more…interesting.
The Accidental Locavore was making some Spare Ribs Vindaloo (recipe soon) and wanted an Indian spin on spinach that didn't require running out for ingredients (I'm looking at you saag paneer).
I pulled out my favorite Indian cookbook Made in India and found this recipe for spinach. Serves 4.
Spinach with Garlic and Lemon Juice Recipe:
1 pound spinach
2 tablespoons unsalted butter
4 cloves garlic, thinly sliced
1 fresh red chili, very thinly sliced (more or less depending on your heat tolerance)
½ teaspoon salt
½ teaspoon pepper
Juice of about ½ lemon (to taste)
Wash the spinach and set aside.
In a very large frying pan, over medium heat, add the butter. When it starts to melt, add the garlic and red chili.
Stir-fry for a couple of minutes until the garlic starts to turn pale gold.
Add the salt and pepper.
Add the spinach in handfuls, toss to coat with butter. As it starts to wilt, add another handful or two until you've used it all up.
Squeeze the lemon juice over the spinach and take off the heat. Taste and add more lemon juice if needed. Serve immediately and enjoy!
My verdict: Oh yes! Sadly, we only had a 9-ounce bag of spinach so I did half a recipe and wished there was more. Lots more.
This was super simple and I'll be making it a lot—so good!
There wasn't too much heat from the chili, a serrano, so we could have used more, but we like heat. If you don't have serranos or jalapenos lying in wait in the freezer (when you have a mess of chilis, wash them, toss in a Ziploc bag and freeze them—you'll always have them on hand), a sprinkle of red pepper flakes would probably be fine.
Try it and let me know what you think.
The Accidental Locavore's mother always insisted on pearl onions for Thanksgiving.
No one really likes pearl onions "straight-up".
When I found this recipe from Bon Appètit it seemed like a great combination.

Also perfect for Thanksgiving because you don't need the oven.
Pearl Onions and Brussels Sprouts in Horseradish Cream
1 bag frozen pearl onions thawed
1 1/2 pounds Brussels sprouts, trimmed and cut in half the long way
3 tablespoons horseradish (more to taste)
2 teaspoons flour
1/8 teaspoon ground allspice or nutmeg
3/4 cup heavy cream
3 tablespoons butter
Salt and pepper
1 teaspoon chopped fresh thyme
Cook the Brussels sprouts until just tender either in a microwave for 5 minutes, or boil them in salted water for about 6 minutes. Drain well and set aside.
Combine the horseradish, flour and allspice in a small bowl, mix well and whisk in the cream. Set aside.
Melt the butter in a large skillet over medium heat. Add the thyme and stir 30 seconds. Add the onions and Brussels sprouts and saute until heated through, about 4 minutes.
Add the horseradish mixture, and cook, stirring occasionally, until the cream is reduced to a glaze, coating the vegetables, about 3 minutes. Season to taste with salt and pepper and more horseradish if you like. Serve and enjoy!
My verdict: This is a tried and true Thanksgiving hit! Even the non-pearl onion and/or Brussels sprouts haters often find themselves surprised by how good this is!
Besides not needing an oven, you can precook the Brussels sprouts and onions and set them aside. Ditto for the horseradish sauce. Then, just finish them before you're ready to serve (about 5 minutes or until they're warm).
True confession, much to my friend Zhu Zhu's disgust, I always buy frozen pearl onions. They're such a pain to peel and at Thanksgiving the last thing you need is to spend an hour peeling tiny onions. If you want to go the fresh route, blanch them and peel them (you might want to cook them first for a couple of minutes before adding the sprouts to the pan).
What's a family Thanksgiving food tradition you'd like to change?
Cabbage might not be the first thing you'd think of to pop on the grill.
Think again.
Cabbage on the grill is great! The Accidental Locavore first heard of it last year at a CSA pick-up.
Grilling makes the cabbage sweet and tender.
And it makes it summery, rather than a sad reminder of St. Patrick's Day.
This recipe from Serious Eats sends it to Asia with the addition of a Thai-style dressing.
Serves 4-6:
Grilled Cabbage Wedges
3 tablespoons fresh juice from 4 to 6 limes, divided
3 tablespoons fish sauce (more or less to taste)
3 tablespoons light brown sugar
3 medium cloves garlic, finely minced
2 teaspoons red pepper flakes (more or less to taste)
2 tablespoons chopped fresh mint leaves
2 tablespoons chopped fresh cilantro leaves and fine stems
1 medium head of green cabbage, cut into 6 wedges with the core left intact
2 tablespoons olive oil
Salt and pepper
Combine 2 tablespoons lime juice, all of the fish sauce, sugar, and garlic in a small microwaveable bowl. Microwave on high heat until steaming hot, about 20 seconds. Add chili flakes. Stir until sugar is dissolved. Allow to cool, then stir in remaining lime juice and herbs. Taste and add pepper flakes and fish sauce as needed. Set aside.
Preheat a gas grill to high with the cover closed for 10 minutes
Place cabbage wedges directly over hot side of grill. Cook, covered, until well charred on first side, about 3 minutes. Flip cabbage, cover, and cook until charred on second side, another 3 minutes. Flip wedges to third side, cover, and cook until well charred, another 3 minutes. Transfer cabbage to cooler side of grill, cover, and continue cooking until mostly tender but still crunchy in center, about 5 minutes longer.
Transfer cabbage to a large bowl and toss with olive oil, salt, and pepper. Transfer to a serving platter. Drizzle with sauce, serve and enjoy!
My verdict:  Grilled cabbage is really a great thing! This recipe should inspire you to try grilling wedges and dressing them with the classic wedge salad dressings like blue cheese and bacon, or turning it into grilled coleslaw (note to self…).
As with anything containing fish sauce, go easy at first, you can always add more later.
If you're apartment bound, a grill pan on high heat will work fine, just turn it down to medium heat once the cabbage is charred. And if you're like my brother and a charcoal purist, that works as well as gas (probably better).
Potato salad is a summer staple.
As good as potato salad is, the Accidental Locavore is not a huge fan of potato salad with either mayo or hard-boiled eggs. When I saw this from the NY Times, it looked like a nice change from my go-to French potato salad. Serves 4:
Potato Salad With Lemon and Mint Recipe
2 pounds small waxy white or yellow potatoes, roughly about the same size
Juice of 1 lemon, more for serving
1 ½ teaspoons kosher salt, more as needed
½ cup extra-virgin olive oil
½ cup thinly sliced scallions, white and light green parts, more for serving
¼ cup torn mint leaves, more for serving
¼ teaspoon Aleppo pepper, more for serving
Cut the potatoes in half, or quarters if they're large. Put potatoes in a large pot with enough salted water to cover by 1". Bring to a boil over medium-high heat and cook until potatoes are just tender, about 15 minutes.
In a bowl, whisk together lemon juice, salt and olive oil.
Transfer hot potatoes to a large bowl and toss with dressing, scallions, mint and Turkish pepper. Let cool to room temperature. Just before serving, top with additional lemon juice, scallions, mint and Aleppo pepper.
My verdict: Easy and good! Will they take the place of the French potato salad? Probably not, but how can you compete with bacon (and bacon fat)???
If you don't have Aleppo, or ¼ teaspoon of some exotic pepper (because it's soooo worth it to go out for 1/4 teaspoon of anything), just use freshly ground black pepper.
Other herbs to consider would have to include sage, rosemary and tarragon – essentially anything fresh.
I always cut the potatoes before boiling.  It saves time, both in cooking and in waiting for them to cool enough to cut. However, you must start the potatoes in cool water. Otherwise they'll never cook evenly all the way through and especially with potato salad, you don't want them mushy on the outside.
What's your favorite potato salad?
Faced with a pile of summer squash and fennel and requested to bring a salad to a recent party, the Accidental Locavore went trolling through a pile of cookbooks, hoping to find all the squash and/or fennel recipes that might have been saved for warmer months.
In Ottolenghi's Plenty More there was a recipe for courgette (not to brag, but I have a signed British copy) and fennel with saffron crumbs.
Being lazy, this was more of a riff on the original. Serves 4.
Grilled Summer Squash and Fennel Salad
1 cup breadcrumbs (preferably homemade)
Vegetable oil for frying
3 garlic cloves, thinly sliced
2 medium zucchini or summer squash, cut lengthwise into thin strips
2 small fennel bulbs, trimmed and cut lengthwise into thin strips
2 tablespoons olive oil
2 tablespoons lemon juice
¼ cup dill, finely chopped
Salt and pepper
Preheat your grill (or grill pan, if apartment bound) on high heat.
In a medium pan heat the oil over medium-high heat. When the oil is hot, carefully add the garlic and breadcrumbs. Fry for about a minute until golden brown. Remove with a slotted spoon and let cool on paper towels. Sprinkle with salt.
In a large bowl, toss the summer squash and fennel with 1 tablespoon of the olive oil, salt and pepper.
Grill until both sides are nicely charred, about 6 minutes a side for the fennel, less for the squash.
Put the summer squash and fennel back in the large bowl. Add the lemon juice and remaining 1 tablespoon olive oil and toss gently. Let marinate for about 15-20 minutes.
Plate the vegetables on a large platter, sprinkle with the dill. Top with the breadcrumbs, serve and enjoy!
My verdict: Not really my verdict this time…even though I doubled the recipe, I should have made more. It disappeared quickly at the party and one of my friends confided that she'd had three helpings!
Because it needed to travel, I grilled the fennel and squash (a mix of summer squash and zucchini) separately and marinated them overnight. Put it together with the dill and breadcrumbs at the party. If you're off to a pot-luck or picnic, this is a perfect dish to make. It travels well and doesn't need to be hot or cold – all good in the summer.
I cut all the squash lengthwise and then in half because it seemed to be easier to deal with at a buffet. Slicing and grilling some Japanese eggplant I had crossed my mind, but then I decided to keep it simple.
From what (little) I ate, it could have used a little more dill and breadcrumbs, but still a big hit!